Feeling of enjoyment and satisfaction through different activities is called as recreation.
Activities and experiences that create feeling of enjoyment and satisfaction are called as recreational activities. These activities provide opportunities to express creativity and to achieve and master new skills.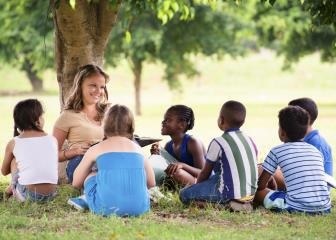 Recreation is particularly important as it draws opportunities to practice social skills, physical attitude and increases motivation. These activities can provide the basis for an increase in self confidence for a child.
Participation in recreational activities allows individuals to learn skills specific to a particular sport or activity. These activities help improve more general skills that can be applied in school and work settings.
Benefits from recreation
Recreation promotes inclusion and quality of life
It increases self-esteem and confidence
It gives opportunities to children to make their own choices
It provides satisfaction, enjoyment and pleasure
It enables individuals become involved and feel like a part of their community
It provides opportunities to gain and develop new contacts and friends
Programmes of recreation include sports and exercises that can improve physical and mental health
Recreation reduces reliance on parents and other adults
It increases independence which leads to increased opportunities
The social component of some recreational and leisure activities might make some activities more fulfilling and enjoyable for children. These include hobbies which provide opportunities of enjoyment, increases self-confidence and motivation.
Some of the hobbies that may be included are stamp collection, playing card and board games, drawing, photography, gardening etc. Individual sporting activities like tracking, skiing, golf, cycling, cross country activities allow individuals to participate in recreation without social interactions that might cause stress.
Flying Kites
Kite Flying is one among some most important hobbies and play for children. It increases vision and concentration besides developing balance of the body.
Kites were basically invented by Chinese people who used to make kites by the applications of silk fabric, high tensile thread of silk, and bamboo streaks.
Kite has been reported to be the invention of 5th century BCE Chinese Philosopher Mozi and Lu Ban. Ancient and medieval Chinese sources describe kites being used for measuring distances, testing the wind, lifting men, signaling, and communication for military operations.
Kites were decorated with mythological motifs and legendary figures; some were fitted with strings and whistles to make musical sounds while flying.
In 1750 Scientist Benjamin Franklin published a proposal for an experiment to prove that lightening was caused by electricity by flying a kite in a storm that appeared capable of becoming a lightning storm.
It is not known whether Franklin ever performed his experiment, but on May 10, 1752, Thomas Francois of France conducted a similar experiment by using a 12 m iron rod (instead of a kite) and extracted electrical sparks from a cloud.
Kites were also instrumental in the research of the Wright brothers when developing the first airplane in the late 1800s. Over the next 70 years, many new kite designs were developed, and often patented.