The Chief Justice of Jharkhand High Court Dr. Ravi Ranjan and Justice S.N.Prasad heard on the PIL demanding encroachment free conservation of Ranchi's Bara Talab (so called Ranchi Lake) and other water sources on Thursday i.e. on 8th April, 2021.
During hearing the court asked the Archeological Survey of India (ASI to make available the map of water sources of Ranchi and its adjacent areas of 1929.It was also asked if it can find out the number of ponds in 1929, how many of them are existing and how many of them have disappeared and how many of them are in reduced areas? The next hearing will be done on 22nd April.
During hearing it was told by the Government that encroachments on Bara Talab, Kanke Dam, Dhurwa Dam and other water bodies had been identified and notices had been served to encroachers and encroachments at many places were removed by the administration.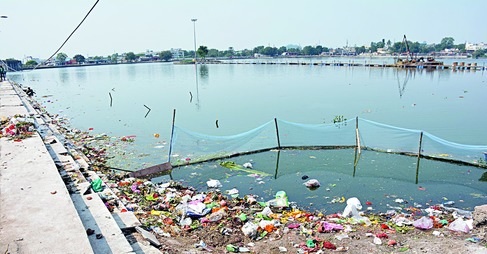 The Court asked for information regarding Hinu River in Doranda and efforts taken to remove the encroachments on the river. The Municipal Corporation of Ranchi told that no construction can be done within 15 meters of the river. The border of the Hinu River bank was encroached and boundary was constructed. For this notices had been served to 82 persons. At the same time some portion of the wall has been demolished. The Court interrupted that- Was not the other portion of the boundary illegal or the Municipal Corporation of Ranchi wanted to protect some persons?
During this, the advocate Rajiv Kumar told the Court that in spite of the Court Order new construction was done within the whole night by filling soil near the river bank. When the team of the Municipal Corporation reached at the site and tried to remove the encroachment, the local people started quarrelling with the team. On this the Court ordered the Deputy Commissioner of Ranchi to present the case on line. The Court asked the Deputy Commissioner to support the team with adequate number of force. Why was any FIR not lodged if violence was done against the force? The Court enquired.
The Deputy Commissioner of Ranchi told that sufficient safety force was deployed under the magistrate but so far no FIR could be lodged about the incident. During this period the Secretary of Urban Development, Officers of the Geological Survey of India, Officers of the Indian Archaeological Survey, Deputy Commissioner of Ranchi, Senior Superintendent of Police, Traffic S.P. etc. were present online. The Court has ordered all the officers to remain present online during the next hearing. Media Reports
High Court, Chief Justice, Bara Talab, Hinu River