The Social Environment
What is Holi?
Holi is an ancient Hindu festival which is also called as the Festival of Colours, love and spring. Some people believe that it is celebrated in the happiness of arrival of new crop. However, in my childhood, Holi was Holi, a festival of burning fire crackers, playing with colours, bathing thoroughly, touching the feet of elders and eating delicious dishes.
Why do we celebrate Holi?
Holi is celebrated to signify burning of Holika. Holika was the sister of the demon king Hiranyakashyap. The demon king once wanted to kill his son Prahlad as he was a Bhakt of God. Hiranyakashyap hated God so he planned to burn him alive along with Holika, his sister who could sit inside the fire taking Prahlad in her lap. Lots of wood and other burning materials were gathered around them and ignited. Alt last Holika was burnt and Prahlad came out alive. Thus, Holi is celebrated to mark the victory of religion over the evil.
Fruited corns of wheat and barley along with gram are half burnt in the Holi fire to worship the new crop. This it is a festival of celebration of ripening of the new crop.
How did we celebrate Holi?
Holi starts at the arrival of spring when a plant of Ricinis communis is planted at a social place. Lot of wood, leaves, and dung cakes are collected and put around it through the whole month. Gradually the whole accumulation takes the shape of a hill. Some mischievous boys used to collect broken beds and cots, and woods placed by a village farmer at his doorstep and placed them on the place of Holi. When the farmer recognized his things he used to express anger but could not take back those things due to religious binding. All these works were done by the village youths. Usually four to five villages had to celebrate their Holi festival together at a place in the middle of some open field.
Before eight days of Holi which occurs on the day of Poornima, the Holashtak begins. It is during Holashtak that no shubh (sacred) works is done within the eight days of the commence of Holi.
The fire is lit in the night of Holi and the Holi starts burning with high flames. In our childhood we burnt fire crackers in the fire of Holi. Elder people, especially Brahmins enchanted Mantras while the burning of Holi. When the burning of Holi was finished we roasted wheat, gram and barley in the fire of Holi, and came back to our homes. We ate good food at night and slept.
The next day, we got up early in the morning and went to the place where Holi was burnt. We had to bring New Fire to our homes and this was the fire used through the year to cook food. It was a custom in Indian rural societies that the fire was never extinguished after cooking food. In my early childhood, say about forty five years back, match boxes were not popular in Indian villages. So, if by chance any one had no fire living in his kitchen, he had to bring fire from the neighboring house. All houses were regarded as one family. For us there was no distinction. We used to brush our teeth at one house, and take the breakfast at some other house, and the lunch at still some other. Elders of all houses regarded us as their own children and we dared not to do any mistake before any one of the elders of the village as he or she had the equal right to punish us like their own children.
Okay, now the next morning starts with colours. We had Pichkaris to through colours on others. Children played colours among themselves and elders played colours on large scale among themselves. Ladies too were involved in the game of colours. My grandfather had a pichkari made of brass. This pichkari was used throughout the gram Sabha during Holi and marriages.
In the noon we had thorough bath on the village well, ate good food and dressed in new. After that all of us had to move for touching feet of our elders- men and women throughout the village. My Grandfather had to catch my hand and take to the place where Holi was burnt. We collected fine ashes from that place in our hand kerchiefs or white newly washed clothes and put some ash on the feet of our elders. The Gulal and Abir were popular in those days but those were kept in different pocket.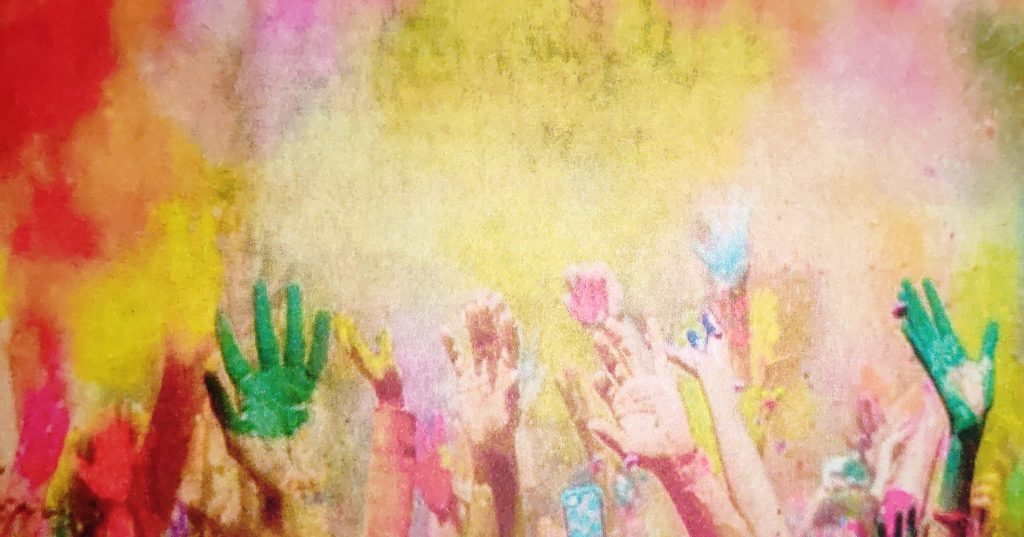 We threw the Holi ashes to all the gods and goddesses in our way, everywhere in our houses and then proceeded to a sacred place where Samay Mai used to live on a Peepal Tree. There was a vast ground in the shade of the peepal tree where carpets were placed for sitting of all the persons who came there from all the five to six villages. There were school teachers, University Professors, Pundits, and many learned people in the sabha. They used to organize debate on some social issues and each one expressed his opinion. Being children, we could not understand anything properly but to the highest of our thoughts we could understand that the discussions were done on some novel issues.
After the session of discussion, the music session started. My grandfather sang a fog song in the salutation of Maa Samay first. After that different people sang Holi songs on the beets of Dholaks. It was a great day and we returned back to our homes in the evening.
Now that a long period has passed, and my grandfather and also my parents have gone to God, I sometimes visit my village. All the villages celebrate their own Holi, burn fire crackers, eat heavy foods, drink and make fun. The Samay Maa place is still there. People go there for worship but not any meeting on some social issue is organized there like my childhood. The social spirit that existed in my childhood has died now.