Two fern species Adiantum or the maidenhair fern and Dryopteris or the wood fern have been reported by the author growing on old walls in Ranchi city of Jharkhand, India.These species have also been found growing in other districts like Gumla, Ramgarh, Hajaribagh districts also.
In fact spores of these species fall on the same area and grow on the mud used for joining bricks. As rain starts, spores germinate to produce new plants on the same walls.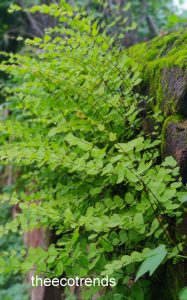 One thing which is more important to note is the climate of the concerned areas that favour growth and development of these two fern species.