Birsa Agricultural University (BAU), Kanke, Jharkhand, India is conducting a Training Programme of Mushroom Production for selected remigrant tribal persons of Jharkhand. These persons have come back from different cities of India as emigrants during the Corona pandemic lock down period.
The Mushroom Production Unit of BAU has selected 32 tribal villagers from Bokaro, Gumla, and Ranchi districts of the state for the production of Button Mushroom. These 32 are the tribal persons who have remigrated from the other cities during the lockdown period. The BAU is conducting this training programme in view of making these persons independent.
Button mushroom is very popular in Indian markets and in other countries. It's commercial production can be a better option for employment. Recently Jharkhand has started the export of vegetables to other countries. If the state produces mushrooms of international standards, the farmers of this state can get better self employment.
Production of mushroom on compost
The trainers at BAU trained the farmers to grow the button mushroom on compost. The compost is made by mixing straw of paddy and wheat with Urea, DAP (Di-ammonium Phosphate) wheat husk, lime and Jaggery. As per reports the compost is prepared within 28 to 30 days. This compost is filled in polybags of 6 to 7 kg capacity. Seeds of the mushroom are spread into these bags.
The compost of 1 q. requires 1 to 1 ½ kg seeds. The mushrooms get matured after 20 to 25 days of sowing the seeds. From these bags mushrooms are plucked 3 to 4 times.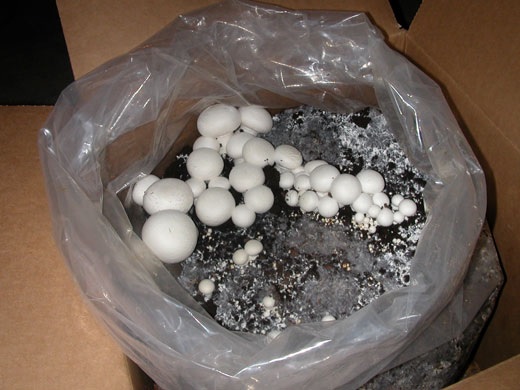 The used up compost can be used for growing ole and ginger. About 2 kg mushroom is obtained from one bag. The cost of mushroom production is about 6 thousand. The used up compost in the second phase is applied for growing ole and ginger. In a research BAU has proved that better production of ole and ginger can be done by using the used up compost.