Medicinal weed Argemone Mexicana or Satyanasi is a prickly weed. It has been introduced and naturalized in India. It grows as waste land weed in almost every part of the country. It is reported as crop weed also in many parts of the country.
In Hindi it is called as Shialkanta and Satyanasi.In Gujrati it is called as Darudi. In Danarese it is called as Balurakkisa, Datturi and Pirangi. In Marathi it is called as Daruri, Firangi, Kote, Pavola and Dhotara. In Sanskrit it is called as Brahmanandi, Pitopushpa, Srigalkanta, Swarnaksiri. In Malyalam it is called as Ponnumatter and Kantankattiri. In Tamil it is called as Kutiyotti and Ponnumuttai. In Telugu it is called as Brahmanandicettu. Taxonomically, it belongs to family Papaveraceae.
It is native to Tropical America. The genus Argemone includes 12 species.
It is a prickly, glabrous, branching herb. It has yellow juice. It has yellow flowers. It varies in height from 0.3 to 0.12 meters. Its leaves are thistle like. The stem is clasping, oblong, sinuately pinnatified and spinous. Veins in leaves are white in colour. Flowers are terminal, yellow or white in colour, 2.5 to 5cm in diameter. Fruits are capsule, prickly and oblong. Seeds are numerous, globose, brownish black. This plant flowers round the year in India.
The plant is toxic to animals. Cattle avoid grazing this plant. Its useful parts are roots, leaves, seeds, and yellow juice.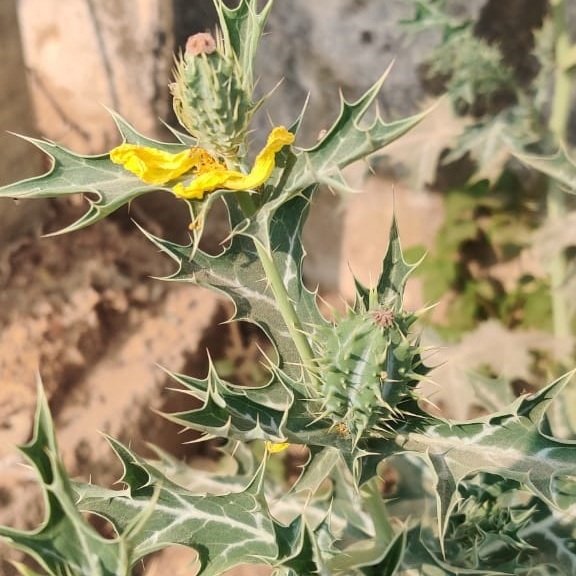 Medicinal Properties
According to Ayurveda, the plant is diuretic and purgative. It destroys stomach worms. It cures leprosy, skin diseases, inflammations and fevers. Extract of roots is anthelmintic. Juice is used to cure ophthalmia and opacity of carnia.
Seeds are purgative and sedative. Seeds resemble mustard seeds. In India, it is used to adulterate mustard seeds. Oil of seeds is non-edible and poisonous. When its oil is used with mustard oil for cooking it causes lethal dropsy. The plant contains alkaloids as barberine, protopine, sarguinarine, optisine etc.