Urban areas are usually densely populated locations. People migrating from villages towards cities further increase the population burden of cities. Thus urban areas are suffering from serious congestion and traffic problems. Here is a case of Ranchi.
In 1985 roads of Ranchi did not know about traffic and traffic jams. In peripheral Ranchi a pedestrian, or a cyclists use to pass through a road in ten minutes. The important Morabadi field was crowded only on National Holidays.
On rest of the days people mostly avoided going through this field. After five in the evenings no one dared to pass through the footpath of the field as there was no pucca road. Now a four lane road is there and the road remains filled with all types of vehicles.
Main Morabadi roads are always filled with vehicles. Jams are the routine affaires of Morabadi roads now a day. Other roads of the city remain blocked by the traffic all the day. From where has these much crowds come to the city? The climate of the city too has been altered within a few decades.
Earlier, the city had a number of ponds that use to balance the ecosystems of the city. Now many ponds have been reclaimed and used for constructing buildings. Though the Government of Jharkhand has done commendable jobs in developing and protecting ponds of the city, and many new ponds are on the plan. But still a number of ponds are covered with aquatic weeds like echornia.
All of the city dwellers need houses to live in but houses and the land are limited. Wet lands and agricultural fields of sub-urban areas are purchased by developers for building apartments on high prices and most of the cultivable land is being used for constructing houses.
Thus urban areas are expanding on one hand and the rates of rent are increasing on the other. Labourers working in factories or other people doing minor business occupy government land, pavements, parks, monuments etc. and start living there. Jhuggi, Jhopari clusters are mushrooming around every city.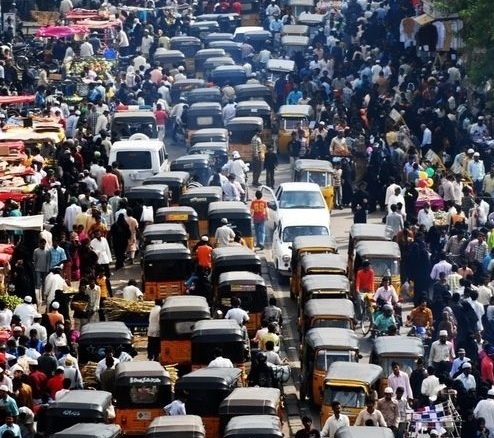 These are called as slums. Slums are very unhygienic places as they don't have proper civic amenities. The govt. of India has formulated a comprehensive Housing & Habitat Policy in Aug 1998 having a long term goal of reducing homelessness, improving the housing conditions inadequately housed and in providing a minimum level of basic services and amenities to all.